Birthday limo hire London
Home > Events > Birthday limousine hire London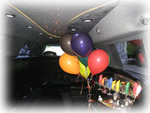 A limousine is a great way to celebrate a birthday in London. A birthday is one of the main reasons for renting a limousine in London and Hire Limo London understands this by offering you some of the finest limos to be found anywhere in the UK. This includes Hummer limo hire, where the triple axle Hummer H2 limousine is the most requested as well as Jeep Excursion limos, Lincoln Navigator limousines, Audi Q7 limos and Range Rover limousines. Some of these limousines are capable of carrying up to twenty passengers. For smaller parties of around eight people we can provide classy Chrysler C300 Baby Bentley limousines and traditional stretch Lincoln Town Cars. Contact us today for the best birthday stretch limo hire London.
Colour does play a part in deciding which limousine is suitable for a birthday. For girls, pink limo hire is very popular and we have access to amazing pink Lincoln Town Cars and pink Hummer H2 limousines as well as a massive 6 wheeler pink Lincoln Navigator limousine. Lads tend to go for black, white or silver. Fire Engine limousine hire can be used for children's parties. Contact limo hire London today for more ideas on your choice of birthday limousine in London.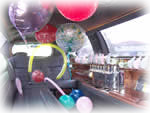 The last thing you want on your birthday is to be let down. To put your mind at rest, limo hire London has recruited only the very best limousine companies in London, offering a first class, A1 chauffeur hire service. The limousines will come equipped with the latest gadgets and gizmos such as karaoke, Playstations, plasma TV's, bubbly (if you are old enough) and may be decorated with balloons and banners. If you need a limousine for your birthday in London then look no further, contact Hire Limo London today.
London is full of great ideas for birthdays here are a few:
Nights out to a top West End nightclub such as Cafe de Paris, 10 Rooms and Dunes
Trip to a posh London restaurant
Trip to one of the many theatres and shows in London's West End
Trip to a football match
Trip on a Party Bus limousine
There are of course many more ideas for birthdays in London, contact Hire Limo London for amazing birthday limousine hire and book your limo today.