School Prom limo hire London
Home > Events > School Prom limousine hire London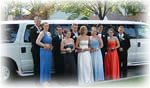 Your school prom in London is likely to be the best night of the year and it is important that you rent the best looking and classiest limousine. Limo hire London has access to the finest limousines to be found anywhere in the UK. This includes Hummer limo hire with Hummers available in many different colour such as white, black, pink or silver as well as Jeep Excursion limos, Lincoln Navigator limousines, Porsche Cayenne limos, BMW X5 limousines, Audi Q7 limousines and massive Party Bus limos. Some of these limousines are the most sought after school prom stretched cars in London. Contact Limo Hire London today for more information about school prom stretch limo hire London.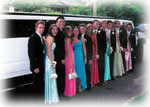 There are many unscrupulous limousine companies in London offering school prom limos at ridiculous prices and then let you down at the last minute. At Limo Hire London we find this unacceptable so we have recruited only the very best limousine operators in London, offering a first class, reliable, A1 chauffeur hire service guaranteed to make your school prom night even more special. You can rest assured that your school prom limousine will arrive on time, be in pristine condition and you will be the envy of all your friends. Whether you are after pink limo hire or the latest triple axle Hummer H2 limousine, contact us today for the best school prom limousine car hire London.
Many classy limousines such as the Chrysler Baby Bentley limo or fun vehicles such as Fire Engine limousine hire and the massive Party Bus limo are available for your school prom in London today. Do not delay, book your school prom limo today otherwise you may end up with a stretch Lincoln Town Car or worst still a taxi. Booking your school prom limousine in London is easy with Limo Hire London. Simply fill in an online quotation form or contact our office and we will do the rest. This year saw record school prom bookings so book early to avoid disappointment. If you book early you make find limo hire prices are lower as demand is less. For cheap school prom limo hire London, contact Limo hire London today.