Hen Night limo hire London
Home > Events > Hen Night limousine hire London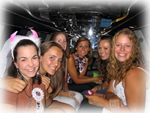 It's your hen night in London and what better way to celebrate than with a stretch limousine. Limo Hire London has access to some of the finest limousines to be found anywhere in the UK. Pink limo hire is very popular for hen nights in London and the selection of pink limos available is amazing. This includes pink Hummer H2 limousines, pink 6 wheeler Lincoln Navigator limos, pink Lincoln Town Cars and a unique Chrysler PT cruiser. If pink is not your thing then we also have access to Hummer limo hire in a range of different colours, white Jeep Excursion limos, silver Porsche Cayenne limousines, Range Rover limos, black Audi Q7 limos and even red Chrysler C300 Baby Bentley limos. Contact us today for more information about hen night limo hire London.
For the maid of honour it is always good to know that your hen night limousine hire in London will arrive on time and be in pristine condition. Limo Hire London understands this and as a result have recruited only the very best limousine companies in London, offering a reliable, first class, A1 chauffeur hire service. You can rest assured that your hen night limo will be immaculate and your chauffeur will be professional and courteous. Contact limo hire London for the best hen night limousine car hire London.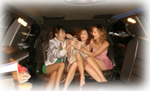 Themed limos such as the Party Bus limo and Fire Engine limousine hire are also very popular for hen nights in London as all girls love a fireman. Your fire engine will arrive with lights flashing and sirens blaring and the lucky hen will get a fireman's lift into the vehicle. You can even decorate the limousine with balloons and banners celebrating the event and all come with plenty of complimentary bubbly. Some can even be rented with strippers. For more hen night ideas in London, contact Limo Hire London today.
Booking your hen night limousine in London is easy with limo hire London, simply fill in our online quotation form or contact our office and we will do the rest. If you book early or if you have your hen night on a Sunday or midweek then low limo hire prices in London may be available. For cheap hen night limousine hire London, contact us today you will not be disappointed.