Wedding limo hire London
Home > Events > Wedding limousine hire London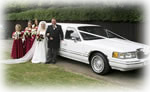 Your wedding in London is likely to be the most important day of your life and after arranging the venue, caterers, wedding dress and flowers your mind will turn to the wedding car. Limo Hire London has access to some of the finest limousines in the UK. This includes Hummer limo hire, Jeep Excursion limos, Lincoln Navigator limousines, Audi Q7 limos, BMW X5 limousines, Porsche Cayenne limos and Range Rover limousines. Contact Hire Limo London today for more information about wedding limo hire London.
One of the biggest fears on your wedding day (apart from forgetting to say I do) is that something will go wrong. Limo Hire London understands this and that is why we have recruited the best limousine companies in London, offering a professional, reliable, first class, A1 chauffeur hire service. You can rest assured that your wedding limousine will be in pristine condition and on time decorated in ribbons, bows and flowers. Contact us today for the best wedding limousine car hire London.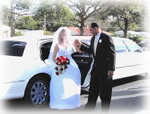 One of the most popular wedding limos in recent years has been the beautiful Chrysler C300 Baby Bentley limousine which has overtaken the white stretch Lincoln Town Car. This stunning limo is available in white or silver. Prestigious and classic wedding cars such as the Rolls Royce Phantom, Bentley Arnage, 1930's Beauford and Excalibur are also popular choices in London. It is surprising just which limousine people choose as their wedding limousine, because not only pink limo hire but also Fire Engine limousine hire has been known to be rented for such an occasion. Contact Limo Hire London today for more choice of wedding cars in London than ever before.
Booking your wedding limousine in London is easy with Limo Hire London. Simply fill in an online quotation form or contact our office and we will do the rest. Remember to submit as much information as possible as we will need to check specific details and availability. Booking early not only avoids disappointment but you may find limo hire prices are lower. So for cheap wedding limo hire London, contact Hire Limo London today.